Submit an idea for a project or join the mailing list
If you have an idea for a project or would like more information about the program, please complete the inquiry form.
Work with PA Manufacturing Fellows Initiative
The PA Manufacturing Fellows Initiative (PMFI) is always looking for new partners. Partnership with PMFI could provide your organization with early access to research, collaborative research projects, recruiting opportunities, event and research branding opportunities, and much more. If you have an idea for a project or would like more information about the program, please complete the inquiry form. Your project idea will be circulated to PA's seven engineering research institutions to identify potential faculty collaborators for your company to consider.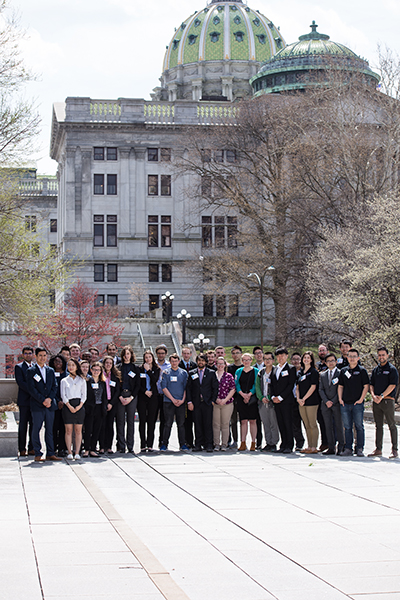 Keys to Building a Productive University-Industry Partnership
University-industry partnerships represent a critical means to drive innovation.  When forming a university-industry partnership, it is important to consider the benefits to each organization and answer key questions about the potential project.
Benefits for PA Companies
Opportunity to solve a problem and/or advance the development of new technologies
Opportunity to gain new insights into a specific discipline or technical area
Ability to seed early-stage research and promote interest in a new area
Access to faculty expertise and students
Access to equipment and specialized facilities
Benefits for Universities
Opportunity to work on real-world challenges
Opportunity to take technologies from the lab to market
Opportunity to expose students to industry culture and better prepare them for future employment
Key Questions to Consider
Does the university possess different expertise or equipment than the company has currently?
Is the project likely to produce results in the appropriate timeframe and within the budget?
Is it acceptable for all or part of the results to be published?
Does the project focus on a routine problem or larger more complex challenge which would benefit from access to highly specialized experts across multiple disciplines? 
What can the company contribute to the project to satisfy the 1-1 cost-share requirement (i.e. financial contribution, equipment/material donations, and in-kind use of company facilities, equipment, materials, and/or personnel to conduct experiments)?