Villanova University and Amphenol Advanced Sensors enhance CO₂ sensor calibration process
Jacob Williamson-Rea
Sep 12, 2023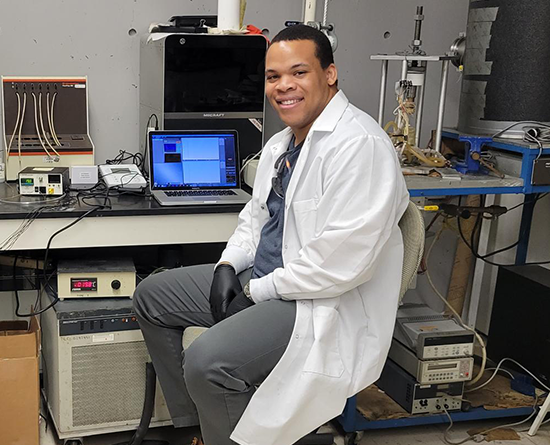 Carbon dioxide (CO₂) sensors detect carbon dioxide in the atmosphere and signal an alert when concentrations become dangerous or exceed accepted limits. Because CO₂ sensors are required in various industries and help monitor environmental impact, sensor manufacturers must correctly calibrate these widely-used instruments before distribution.
"If we want to quantify global warming, we have to study and quantify the CO₂ concentration in our atmosphere," says Calvin Li, associate professor of mechanical engineering at Villanova University.
A team of both graduate students and faculty, led by Li, is partnering with Amphenol Advanced Sensors, located in St. Mary's, PA, to enhance the accuracy and efficiency of the company's CO₂ sensor calibration process. Amphenol Advanced Sensors produces state-of-the-art sensing technologies like nondispersive infrared (NDIR) sensors to detect CO₂ in various applications, including those in the industrial, automotive, and medical fields.
Prior to the collaboration with Villanova, Amphenol used a traditional batch calibration method. To meet the increased demand for the company's CO₂ sensors, Li and the Villanova team worked closely with Amphenol's engineers to investigate a more effective production methodology. Li's team proposed shifting from Amphenol's batch-based calibration to an assembly line technique to speed up calibration time and increase production output.
"This project has the potential to significantly increase the manufacturing capacity of Amphenol's CO₂ sensor business by 200% or greater," says Stuart Wells, Global Engineering Director at Amphenol Advanced Sensors.
This project keeps Amphenol in its leading position in the CO₂ sensor market and has improved the calibration process for a greater throughput rate of CO₂ sensor production.

Stuart Wells, Global Engineering Director, Amphenol Advanced Sensors
"Reducing the cycle time will lead to a lower cost per unit, with less gas and overhead consumed during the calibration stage and greater sensor output per square foot of space," says Wells. "This project has also enhanced the technical knowledge base of Amphenol staff through the introduction of advanced calibration techniques and processes."
The academic side of this partnership gained invaluable experience as well. 
"The Ph.D. students had the opportunity to expand their horizons," says Li. "They had the opportunity to see the mutual benefit of our expertise transferred to engineers in industry and learned about the industrial setting and engineering experience, helping them understand how fundamental research is put into practice."
For Li, one of the most exciting aspects of the project has been this symbiotic relationship between industry and academia, as well as the collaboration's impact on the local community.
"How you are doing is also how your community is doing. If your community is doing well, you will do well," Li says. "This combination of core research with practical industry applications allows us researchers to understand the value of why we do what we do."