RMU and MECCO investigate advancements in laser welding of plastics
Nathan Snizaski
Aug 16, 2023
Injection molding is a significant component of manufacturing across many industries. Plastic pieces are first molded and then assembled into larger components through welding to create appliances, automobile parts, and many other products. As advances in manufacturing technology drive change, industries are preparing to shift to next-generation technologies like laser welding. Robert Morris University and MECCO partnered to advance the domestic effort in plastic welding and share their expertise with industry workforces.
"What we've seen in the past few years is that the plastics manufacturers are responding to the growth of this field," says Ben Campbell, professor of engineering at Robert Morris University (RMU). "We're seeing more companies marketing plastics for welding, but there are only a handful of companies in the US that offer welding systems. MECCO is poised with years of experience to help these companies transition from less efficient plastic joining processes to laser welding."
In 2018, MECCO, based in Cranberry Township, PA, observed that manufacturing partners transitioned to laser welding systems as older systems aged out. Already a leader in laser and pin marking solutions, MECCO consulted Campbell to explore the feasibility of laser welding as another branch of their business.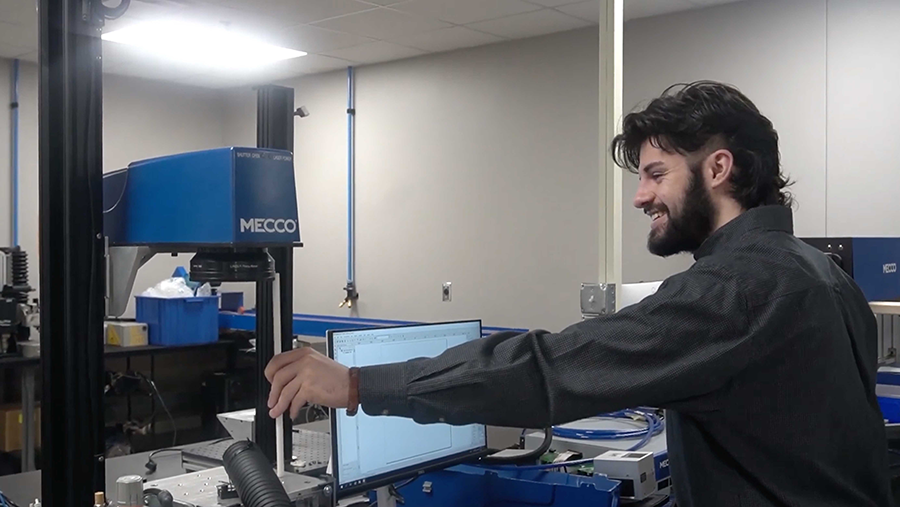 "At RMU, we have the complement to what MECCO needed," says Campbell. "They could produce the welds, but we could make the parts to be welded and test the weld strength at RMU, so it really has been a perfect partnership."
Through the support of the Manufacturing PA Innovation Program and in-kind donations from MECCO, Campbell's team built two welding test systems: a larger, flexible testbed for MECCO's applications lab and a portable welding system designed to go to trade shows. RMU's test systems have demonstrated weld speeds faster than one inch per second, making most laser welds under 30 seconds, well under the industry's average injection molding cycle time of one part per minute.
The portable welding system was demonstrated off-site for the first time in June 2023 in a laser welding workshop conducted by RMU and MECCO in Erie, PA, at the Penn State Innovation and Emerging Plastics Technologies Conference.
"The portable device opens up a whole new realm of proliferation of this technology where we don't have to rely on manufacturers coming to us," says Campbell. "We can take the system to them and demonstrate welding in their facility or at a trade show."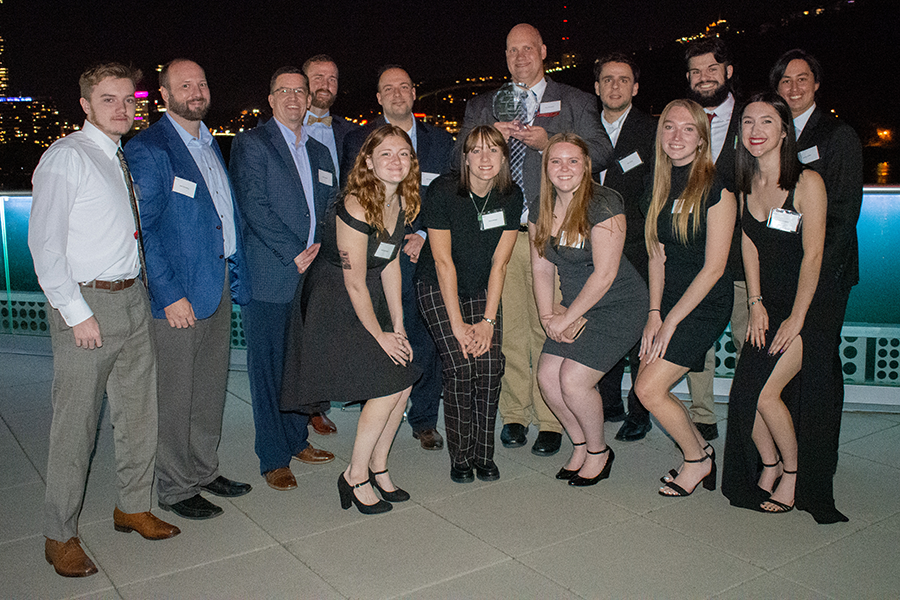 To date, 32 RMU engineering students have participated in the collaboration with MECCO, with many receiving academic credit for their work. Several students have used the experience toward an honors or master's thesis. In October 2022, the Carnegie Science Center (Pittsburgh, PA) recognized the project with the Carnegie Science Award for Exemplary Educational/Corporate Collaboration.
The company hired Carol Nelson, applications engineer at MECCO, after working on the project for three years as an RMU student intern while she earned undergraduate degrees in engineering and an MS in engineering management. Nelson now runs MECCO's applications lab and oversees various welding projects.
"The collaboration has had a very positive impact on MECCO," says Nelson. "Working with RMU, we have been able to further our understanding of the laser welding process, where it fits within our product line, and what industries and companies we should strive to work with." 
Working with RMU, we have been able to further our understanding of the laser welding process, where it fits in with our product line, and what industries and companies we should strive to work with.

Carol Nelson, Applications Engineer, MECCO
RMU and MECCO also collaborate with a research team at Penn State-Behrend's plastics technology program to assess damage or decomposition resulting from laser welding.
"The collaboration with RMU and Penn State-Behrend has allowed for further in-depth analysis of our welded samples," says Nelson. "[Penn State-Behrend] has equipment and capabilities not available to the team at RMU that will allow us to gather more information on parts after they have been welded, which will help improve the current welding process and produce stronger welds in the future."