Gannon University, Corry Rubber Corp., and GeorgeKo Industries design elastomer pallet rack guard
Nathan Snizaski
May 15, 2023
Ridg-U-Rak, based in North East, PA, is one of North America's largest pallet rack and storage rack manufacturers. After receiving complaints from customers regarding poor visibility issues of their pallet rack column guards, the company reached out to a local elastomers expert to improve its product line's design. Gannon University, Corry Rubber Corporation, and GeorgeKo Industries combined expertise to design a durable product with high visibility to address an industry need.
"Forklifts damaging the bottom of storage racks happens all the time," says Robert Michael, associate professor of mechanical engineering at Gannon University. "Visibility is a big issue, and a lot of column protectors are fabricated out of plastic. When considering those factors and conditions together, Ridg-U-Rak wanted us to explore a product redesign using different materials and colors to enhance visibility." 
Michael's team collaborated with industry partners Corry Rubber Corporation (Corry, PA) and GeorgeKo Industries (Erie, PA) to tackle the project. The academic/industry partnership had the right combination of expertise to identify a solution. 
"I have the expertise to design the product, and companies like Corry Rubber and GeorgeKo have the manufacturing expertise to make it," says Michael. "It's a marriage of three partners that works very well."
Not only do you want to protect storage racks from being damaged, you also want to protect the merchandise stored on those racks. We demonstrated with the elastomer prototype that there can be significant reductions in acceleration.

Robert Michael, associate professor of mechanical engineering, Gannon University
The team determined that elastomer—a polymer with elastic properties—was the ideal material for the product redesign. Michael cites elastomer's superior ability to absorb energy as a catalyst for significant performance improvement in column guard protection. The research team attached accelerometers to a rack column and measured the acceleration level due to impact. They observed significant reductions in acceleration levels with elastomer prototypes versus incumbent plastic guards.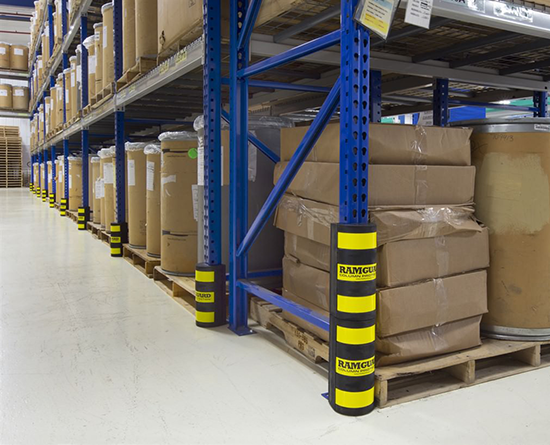 "We've done impact studies that show that you can impact the rack over 20 times (with elastomer protection)," says Michael. "You could do drop test simulations without any damage to the rack, so it could take virtually any impact from a forklift without damaging the rack–whereas with plastic column guards, after one or two significant impacts, they're basically ruined, so you need to replace them." 
Through a grant from the Manufacturing PA Innovation Program, Michael supported two Gannon University students to work on the project. Undergraduate student Mark Kurchena gained valuable hands-on experience during the project and extended his relationship with Corry Rubber through a summer internship. Michael credits Ernie Ferro, president of Corry Rubber Corp., for his commitment to helping the student interns. 
"Ernie is extraordinarily supportive of our students," says Michael. "He's the best compounder in the country and still made time to answer all their questions. He invited Mark to join him at Corry Rubber several times when they made samples and prototypes. It's just a win-win situation for everyone."
Michael reflects on the project as a collaborative, highly applicable endeavor.
"Our industry partner provided all the material samples and fixturing necessary to conduct tests, and [our team] did the actual tensile testing at Gannon in my lab," says Michael. "For me, there's something very intriguing about working on finding a solution to an immediate problem with a tangible product that generates revenue. I like to put my time toward projects that are meaningful, like this one, and I'm sure our industry partners feel the same way."